Hi Beauties!
I am so very excited to bring this to you! As some of you may already know, I absolutely LOVE tattoos. I have 8, my 2 recent ones just last Saturday! Every Summer it's such a pain covering up the tattoos with sunscreen. Its oily & white ends up covering the beautiful art and colors of tattoos. But in order to preserve your tattoo & its color you must cover them up with sunscreen. NOT any more!!!
The Body Bartender
has found a way to protect your art & show it for its beauty with their amazing product called
Tattoo Protection
.
Tattoo Protection offers an SPF 30 to help keep you protected from harmful rays of the sun. This product is unscented which is a plus for those with sensitive skin & who are sensitive to scents. The sunscreen comes out as a white cream from the tube. It applies white but in about 30 seconds it dries completely sheer. The formula is not sticky and is not greasy! I know, awesome right!!! It's everything I ever wanted in a sunscreen! And it's a pink tube!! The pink tube has a pinup girl climbing a ladder on the front. On the back are photos of her tattoos and the other places she covers up with sunscreen! In the foreground is are images of old school tattoos e.g. anchors, sailor girl, cherries, hearts, stars, sirens.....its a piece of art in itself! My favorite is the quote on the tube "You're a work of art Protect your assets!" I have some photos below to show you.
NOTE
This product is
not only
for tattoos!!! It can be used all over the body to protect you from the sun! And let's be honest, how cute is this packaging?? I rather pull a pink, pinup girl designed tube out of my bag than the regular brown bottle!! This should be sold at all beach shops, tattoo parlors & pool side shops around the world! And BEST of all,
NO ANIMAL TESTING
!!!!!!
EVERYONE needs this for the Summer! Yes all of you!
Back
Foreground design
As it comes out of the tube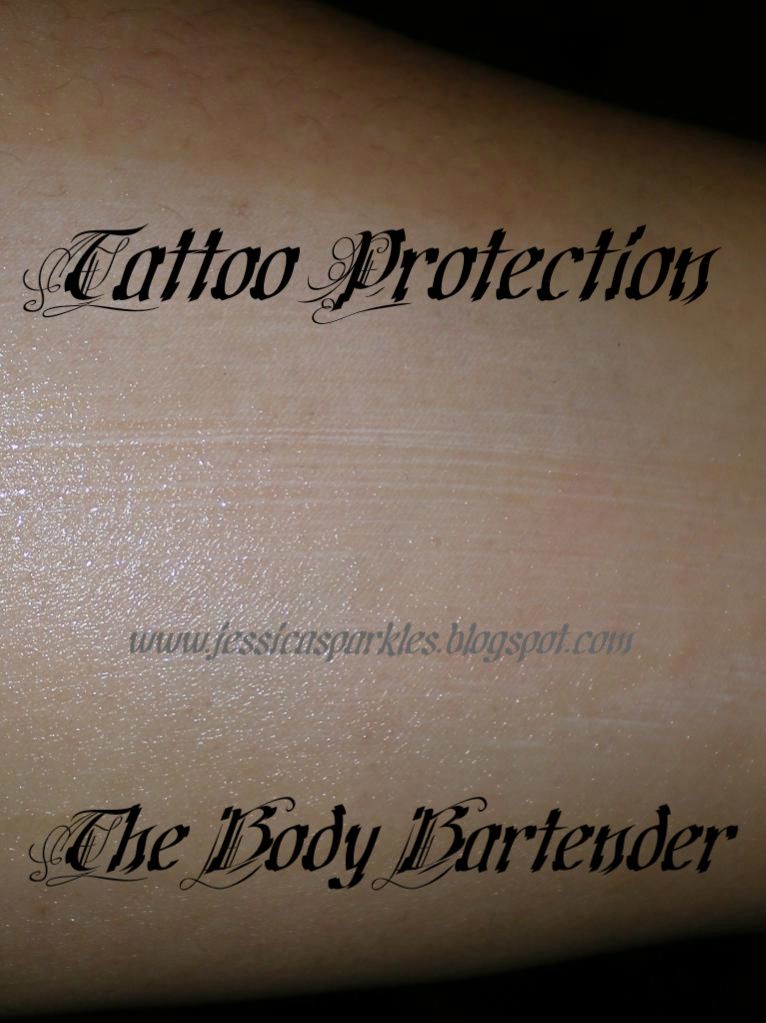 30 seconds later
6 hours later
I recommend this product to all of you & don't keep it to yourself, share it with your friends! You can purchase
The Body Bartender Tattoo Protection by clicking here!
Want to learn more about this brand? I will have a post tomorrow about the brand, the other products & its creator Heather Losik, so stay tuned!! You'll want to read this!!
Love & Protected Sparkles,
Jess