Hi Beauties,
I am sharing my favorites with you. Great Holiday gift ideas for the special women in your lives. I have shared so far,
Bare Escentuals Year Of Beauty,
Hourglass Veil Mineral Primer,
Bare Escentuals Putting On The Glitz,
&
Too Faced Sweet Dreams
Today I will share my new Kat Von D palette favorites!
These 3 are the new series of palettes. They come in this cigarette "style" tin case. Each case has a unique style embedded on it. All are original Kat Von D drawings.
Poetica
has a swirl "fleur de lis" type design.
Saint
is etched with a gorgeous rose pattern. And my favorite is the
Sinner
design which is butterfly wings on a skull. All of these come with a sample of
Kat Von D's High Voltage Primer in Skin
and a mini
Autograph Pencil in Puro Amor
(jet black) which is super rich & waterproof. The eyeshadows are all medium to heavily pigmented.
Saint
is the neutral of the bunch. Heavens is a shimmery vanilla, Enjoy the Silence is lightest gold shimmer, <3 is a soft flesh tone pink with diamond twinkles, Downtown is a light reddish bronze, Sunny is a bronze gold, Pray For Me is a shimmery taupe, Bookworm is a medium chocolate brown, Caravaggio is a rich dark matte brown.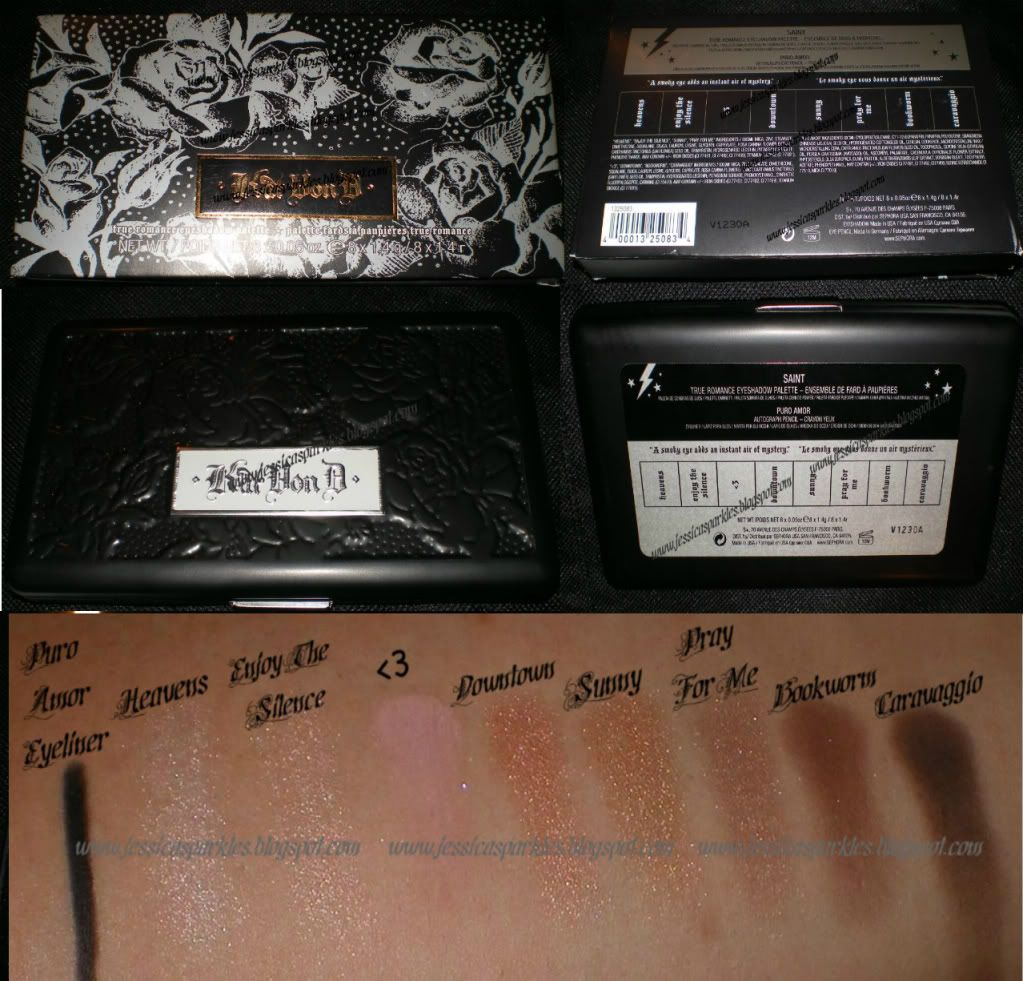 Sinner
is the mysterious one! It's rich purples & silvers make this the perfect palette for an amazing smoky eye. Disco Dust is a soft shimmery pink, Linzy-Jane is a gorgeous iridescent light purple, Ace of Spades has a rich burgundy base with purple sparkle, Violator is a blackened purple base with tons of different color sparkles. Holy Bible is a soft pearl silver, Glock is a gun metal grey, Dorian Gray is a rich charcoal gray & Lucifer is a matte black. I love this palette!
Poetica
is the perfect combo of the two palettes above. It has both neutrals & purples. Forgiveness a gorgeous butter-cream with gold shimmer, Sand Timer is a light cocoa sand with shimmer, Chandler is a rich shimmering copper, Tijuana is a blackened brown with gold sparkle, Wonderland is a deep burgundy with gold twinkles, Shiba is a beautiful true purple with gold twinkles, Babe is a light lavender and You Alone is a matte vanilla.
All of these palettes are currently available at Sephora stores & on
Sephora's online
store for $35! Not a bad deal for 8 gorgeous shades & a liner!